Last weekend I took the initial training certification class for Les Mills BODYPUMP. You can read a little more about what Body Pump is here.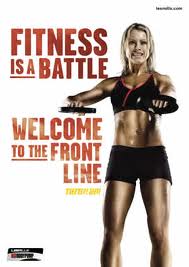 Overall, it was an awesome weekend! We had a great group of about 14 people and an awesome, energetic instructor. It was a 2 day class, 8 hours each day. And we worked hard. We did the entire body pump class (about an hour) 5+ times over the course of 2 days. . . using decent (i.e. hard/challenging) weights. And I was feeling it! It has been a while, since I have really pushed myself and been that sore, so it was actually nice. There was a mix of activity and lecture time. But overall, we were up doing the workouts, practicing moves, form, technique, choreography, and teaching ques.
I am not sure what I expected from the weekend, but it wasn't what I expected at all… I didn't expected to have so much fun, to laugh as much as I did, and to feel challenged by learning the new material. I have been teaching aerobics for 3+ years and this class really challenged me to improve my technique and cueing skills. I had the hardest time learning to keeping on the beat while giving out instruction on form and providing encouragement. We had lots of time to practice during the weekend (thankfully). We presented our tracks 3 times over the 2 days, which was the most helpful to actually get up there and just do it.

*"Studying" at Caribou on Sunday morning*
When I say 'our tracks' I mean, that we were given the music and choreography about a week ahead of time and told to memorize 2 of the songs and the choreography that went with it. Then, we had to actually teach that 'track' (song) to our group. I had the lunge track – which has lunges, squats, and jump squats in it! Thankfully, I did well enough to pass. 🙂 I totally goofed on my last time teaching it, so I was super nervous that that would hold me back, but I did well enough the other 2 times.. . And the instructor reminded us that we aren't perfect, we are going to miss a cue or transition at times, but the key is, knowing where to pick it back up and get back on track.
And now, I move on to team teaching at least 4 classes, and then I am off to teach on my own. .. **I've already team-taught twice this week and it is awesome! I have been nervous, but I just love love love body pump so much, that is has been fun too. And good for my guns.
Unfortunately, the training doesn't end there. Les Mills wants all their instructors to be awesome (duh!), so within 2 months of passing the initial certification class, I have to videotape myself teaching one of my body pump classes and send it in for review. Only after that has been reviewed and given the "thumbs-up," will I be a certified Les Mills body pump instructor. So, I still have a little more to do and I am working now on learning all of the choreography for this release (84), to get ready to teach my own class and get that videotape done!
Have you ever taken Body Pump? Or do you have any exercise certifications?