Have you ever been in an aerobics class and looked at the instructor and wondered "how do they do it"?
Talk, encourage, remember the cues, correct form all while lifting heavy weights when I am dying just trying to lift my own weights? Yup, me too. And so today, I thought I would share some instructor secrets and confessions.
1. I am totally dying too.
Yup, all that weight on my bar. Damn, it's heavy. And I probably want to put the bar down. And more often than not, I am thinking: "geez what was I thinking putting so much weight on this darn bar today?" But, seeing your face, focused and pushing yourself, gives me the energy to get through. And I know I say this in class, but it's true, we are in this together and we will finish together. #truth
2. Being in front of the class pushes me to work harder.
As a Les Mills instructor, we are taught to lift "inspiring" weights. Now, that means something different for each  person, but I know that when I am teaching, I go heavier than I might if I wasn't in front of 50 people. . .
3. I want you to get stronger.
Yup. That is why I am always encouraging you to put more weight on your bar (when you are ready, of course!) and to challenge yourself. I'm up in front because I believe in the awesomeness that is BODYPUMP and I know it can challenge you and change you in ways you may have never expected, but you have to be open to that change. And I am here to help you do it.
4. I am checking form – always – and it's not to pick on you, I don't want you to get hurt + I want you to get the best results you can!! See above. I am here to help you. That's it. No other motive. So, if you have questions – ask! Please. I love when people come and ask me questions on form, weight selection, who sings the bicep track song. Anything that gets you more engaged and excited about class, I'm here to share that with you!
5. I teach because I love it.
Let's be honest, no one is getting rich teaching at the YMCA. Yes, teaching does help to fund my Fabletics habit, but that's not why I am up in the front. I want to share my energy and enthusiasm with you. And I think that is the mark of a good instructor and you can tell which ones LOVE it and which ones are just there to clock in some time. Stick with the ones that love it and you will never go back.
6. I say the same things over and over again because they are IMPORTANT. Seriously, you don't want your knees to go over your toes with squats or lunges because you could seriously mess up your knees, hips or back if you don't. And the bar shouldn't touch your chest during the chest track! If it does, you are bringing the bar too low, which puts the stress on your shoulders and takes the focus off the pecs. See. . . there is a reason behind everything I say in class, so please, do yourself a favor and just double check that you are actively listening and adjust as needed.
7. I instruct how I would like to be taught.
Each instructor has their own way of teaching and some you like and some you don't, right? I love the music in pump, so I make sure that while I give the appropriate cues, I don't talk the whole time over the music, because I hate when other instructors do that. . . IMHO. To each their own, right?
8. Sometimes the last thing I want to do is teach a class. It's been a long day or my bed is really warm but it is so amazing to me that as soon as I walk in the doors, blast some pump music, I am so happy to be there and that I get to teach. That's right, it's not something I have to do or need to do, it's something I GET to do. And that is awesome.
9. I spend way more time picking out my outfits on the days I teach than I'd care to admit. . . I mean, when you are in front of 50+ people who are going to spending the hour looking at you, it's important you look good and extra important that your pants aren't see thru.
10. I bust mine to kick yours. Every time.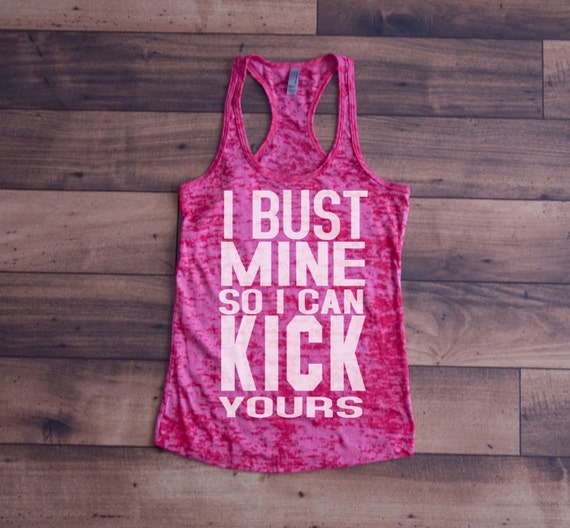 And I totally need to get this shirt.
Are you an instructor? Any confessions to share??
Linking up with Amanda today for Thinking Out Loud!