Becky was super awesome and nominated me for the Sunshine award this week. Basically a fun set of 10 questions for us to learn more about each other! Which I thought would be a perfect post for this Friday!! BTW Happy Friday!! Any fun plans for the weekend? We are headed to the MN State Fair this afternoon with Scott's brother, Adam and his girlfriend, Ashley. Saturday is a hanging out day. Going to try to fit in a long run. Sunday is more of the same, maybe try to clean the house (boo!) and go to Brynn's 2nd birthday party!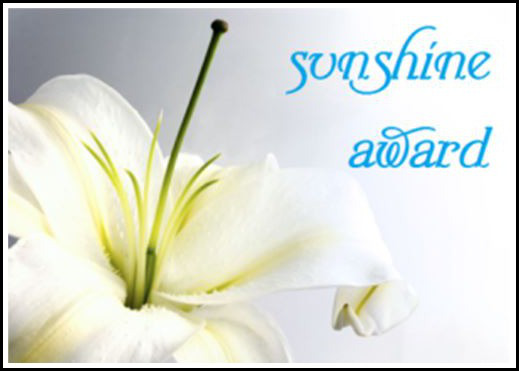 The Rules:
Include award logo in a post or on your blog.
Link to the person who nominated you.
Answer 10 questions about yourself.
Nominate 10 bloggers to receive the award.
1. What is your first memory in life? I can't remember my very first memory but I have very fond memories of going up to Madeline Island (on Lake Superior) every summer for the 2 weeks before Labor Day. We stayed at the same place every year. Spent lots of time playing in the super cold water, building fires, chasing sand crabs, and hanging out as a family before school started. Flashback photo from before Scott and I were married, when the family went on a day canoe trip. . .And Abby tipped the canoe with Dad and Jenny in it. The funniest part was the fact that Abby was able to stay in the canoe while Dad and Jenny both fell out. We were only about 5 minutes into the trip. Abby just looked at them in the water, like, why did you guys get out? Those of us in the other canoe, laughed our butts off.
2. What has been the best vacation you have even been on and what vacation are you looking forward to in the future? I loved our road trip to Colorado a few years ago. Scott and I had a super fun time, got to see my Colorado friends and I saw Mount Rushmore for the 1st time –> super cool! I am looking forward to our trip to Coco Beach this winter. I think Luke will be the perfect age for the beach.
3. What is your preferred type/brand of coffee? Caribou – duh. Large caramel skim latte.
4. Flowers or chocolate? Both? I guess I would have to choose flowers because they would last way longer than chocolate in my house.
5. What is your normal bedtime and wake up time? We go to bed super early, like 9:30. . .we both really need sleep and Luke tires us out! We get up between 6 and 6:30 depending on work schedules and Luke.
6. When going out, do you wear your hair up in a pony tail or down? I have my hair in a pony tail 90% of the time. When I am trying to look nice (i.e. date or meeting at work), I will wear my hair down.
7. Favorite form of exercise? Running and BODYPUMP.
8. Favorite place to shop? Super Target. It is the best place and has everything. I wish there was Super Target in Mankato. When I was going to medical school in Des Moines, I lived less than a mile away from a Super Target and it was the best thing ever.
9. Do you have a favorite cuisine to eat when dining out? What is it? Probably my favorite thing to get is pizza delivery. I like to go out, but I really like to stay in, have my PJs on, get comfy on the couch and eat in.
10. Broccoli. Yay or nay? I like broccoli. I don't love it. But my favorite is probably roasting it in the oven until the edges get a little crispy. And cheese. Cheese makes everything better.
My questions. . .
1. What is your absolute favorite food?
2. What was the 1st blog you read?
3. If you had a be on a reality TV show, which one would you be on?
4. What is your catch phrase?
5. Where and when is your next vacation?
6. Football? Yes or No?
7. If you could only watch one TV show or movie for the rest of your life, which one would it be?
8. First thing you did this morning?
9. What goal are you currently working towards?
10. What is one thing that your readers might not know about you?
And my nominees. . .
1. Emily @ The Good Era
2. Katie @ The Daily Cup of Kate
3. Erica @ for the sake of cake
4. Kim @ my healthy nest
5. Ashley @ Cupcakes n' Crunches
6. Kait @ Chickadee Says
7. Jackie @ Nacho Average Runner
8. Shannon @ Wisconsin Dachshund
9. Caitlin @ Chasing Chels
10. Nicole @ Work in Sweats Mama
Now, if you wouldn't mind, please answer one of my questions, whichever one you want, so we can learn more about each other!! Happy weekend.